Here is a fun bit of Friday afternoon trivia for you. Leonard Nimoy who played Spock in Star Trek (the original series) has been asked many times how he came to develop the Vulcan salute. His answer is that it comes directly from his experiences growing up in the Jewish synagogue.1;2 The priests would bless the congregation holding out both hands in this fashion while speaking the traditional blessing passed down to them from Moses. The blessing can be found in Numbers 6:22-26 in the Bible.
The Lord said to Moses, "Tell Aaron and his sons, 'This is how you are to bless the Israelites. Say to them:
"The Lord bless you
and keep you;
the Lord make his face shine on you
and be gracious to you;
the Lord turn his face toward you
and give you peace."'
It is the same blessing many Christian churches use as a benediction or short prayer at the conclusion of a service. You can even sense an homage back to these words in the words that generally accompany this Vulcan salute: "Live long and prosper." So the next time you give the Vulcan salute and speak those iconic words perhaps you might think of how you are offering the blessing of God to those whom you greet.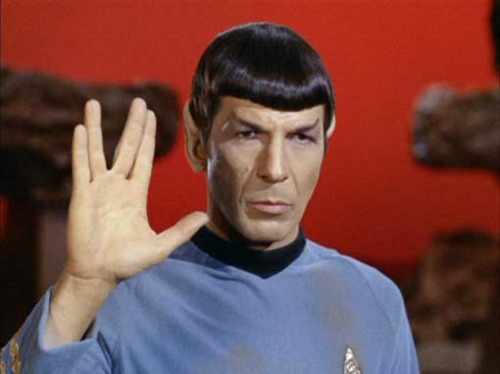 1 Leonard Nimoy: The Origin of Spock's Greeting – Greater Talent Network; http://youtu.be/G1d83XOORP0
2 Wikipedia: Leonard Nimoy; https://en.wikipedia.org/wiki/Leonard_Nimoy