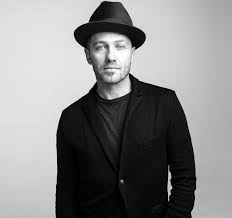 TobyMac, one of the
founders of the Christian rock band, DC
Talk, has written and recorded songs that have changed the course of
Christian music (think "Jesus Freak," "Luv is a Verb," and "Colored People"). He
created his own record label (Gotee Records) and produced the albums of such
bands as Reliant K and Out of Eden. He has co-written books
with Michael Tait and Kevin Max and he has sold out stadium-sized concerts
around the world. In his solo career, he has released seven recordings and won
three Grammys, an American Music Award, and approximately twenty Dove Awards.
In a category all of
its own is an accomplishment for which TobyMac (Toby McKeehan; born Kevin
Michael McKeehan) will never win an award. In 2012 through 2015, Toby took care
of his father in the last three years of his father's life and has spoken of
the nature of this process in several interviews.

[1]

Three
years of taking care of his father's every need while his father regressed in
physical abilities and progressed in dementia has changed TobyMac in profound
ways. He has spoken of the slow-loss of his father, whom he says, "was really
not with us for a long time before he passed away." He credits his father as
one who taught him the importance of living out his faith. He also says that
his father was a driven man who taught him to push himself to be the best he
could be. He went on to say that the three years of caring for his father
changed his life as he realized the deeper love that comes from doing things
for people that they can't do for themselves. He calls this a "higher calling."
Toby remarks that the
song is very much a DC Talk style of song that he wanted the other two
members to help him record. It has become a main feature in TobyMac
concerts, usually using video and audio recordings of Michael Tait and Kevin Max.
The hardest hitting lines in the song's lyrics speak of the weariness that
comes with caring for others and remind us that such things are always "harder
than [we] thought" but "empty's never felt so – – – full."
I am tired, I am
drained
But the fight in me remains
I am weary, I am worn
Like I've never been before
This is harder than I
thought
Harder than I thought it'd be
Harder than I thought
Takin' every part of me
Harder than I thought
So much harder than I thought it'd be

But empty's never felt so
This is what love
(this is what love)
This is what love
Feels like
This is what love (this is what love)
This is what love
Feels like

Poured out, used up, still givin'
Stretching me out to the end of my limits
This is what love (this is what love)
This is what real love
Feels like
This is what love feels like poured out
Used up still willin' to fight for it
This is what love feels like
Yeah, this is what it feels like
Like floating
confetti
The beautiful gets messy
When the fallout finds the floor
But in the depths of the trenches
Is the richest of riches
Love is calling us to more
This is harder than I
thought
Harder than I thought it'd be
Harder than I thought
Takin' every part of me
Harder than I thought
So much harder than I thought it'd be

But empty's never felt so
This is what love
(this is what love)
This is what love
Feels like
This is what love (this is what love)
This is what love
Feels like
Poured out, used up, still givin'
Stretching me out to the end of my limits
This is what love (this is what love)
This is what real love
Feels like
This is what
love feels like poured out
Used up still willin' to fight for it
This is what love feels like
Yeah, this is what it feels like
And now these three
remain
Faith, hope and love
But the greatest of these is love
It's worth everything
you put in
Everything you put in
It's worth everything you put in
Everything you put in
Everything you put in
Everything you put in
It's worth everything you put in

Love

This is what it feels like
Poured out, used up,
still givin'
Stretching me out to the end of my limits
This is what love
feels like
This is what love (feels like)
This is what love feels like
This is what love (feels like)
This is what love feels like
This is what love (feels like)
This is what love feels like
This is what love (feels like)
This is what love
This is what love (feels like)
Poured out, used up,
still givin'
Poured out, used up, still givin'
Poured out, used up, still givin'
Stretching me out to the end of my limits
Songwriters: Benjamin
Glover / David Arthur Garcia / Toby Mckeehan
Love Feels Like lyrics
© Capitol Christian Music Group
---
[1]
"TobyMac's Fulfillment
Comes Through Servitude" Ashley Andrews, CBN, http://www1.cbn.com/tobymacs-fulfillment-comes-through-servitude