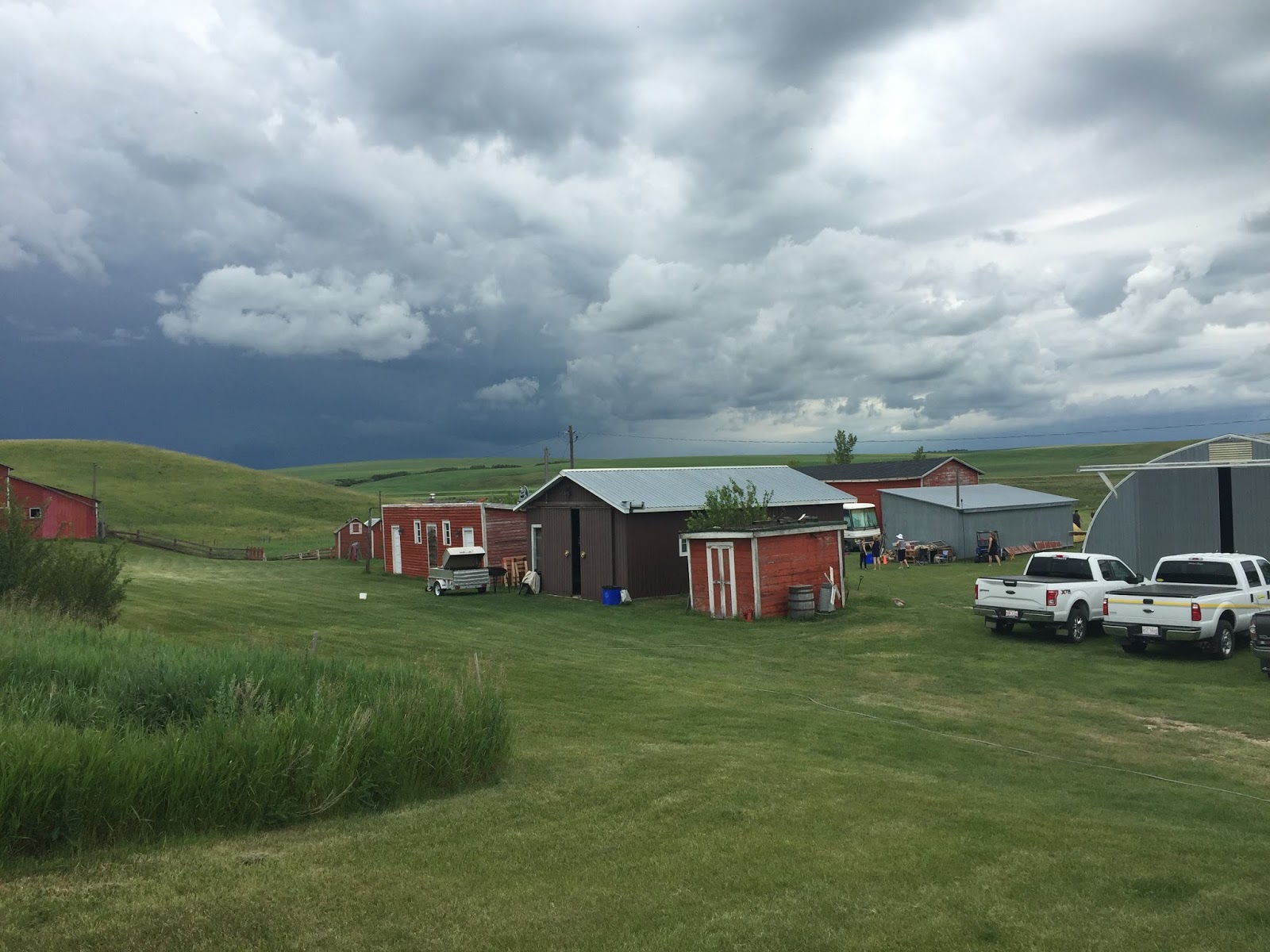 I witnessed a powerful act of family on the weekend. Most families are made up of a diverse collection of genetic and non-genetic relationships and our Westwood/Smith family reunion on the weekend was a great example of this. The glue that holds this family together is the patriarch Albert Edward Westwood who was my grandmother's father. My grandmother, Bertha Smith (nee Westwood) had a brother, William, who had five children: Ralph, Eva, Marvin, Gordon, and Barry. My grandmother died in 2010 and her children and grandchildren carry on the tradition of getting together with the Westwood clan for a sometimes annual reunion. My cousin, Dan Smith, and his wife Linda, are truly gifted in hospitality and bless many people by opening their home to family and friends. They shared their acreage near Three Hills with the more than 50 people who gathered, ranging in age from 2 months to 79 years.
Beyond the glue of genetic relationships, there are bonds of marriage, friendship, adoption, spiritual resemblance, spiritual difference, love, care, concern, debate, music, and comradery. As we all took time out of our busy schedules and got reacquainted, there was a sense of awe as we considered how this family came together through many circumstances. We spoke of the randomness with which our ancestors came to reside in Central Alberta. My father's father came to Canada from Ireland at 14 years of age because some relatives of his had relocated to the prairies. My mother's father arrived from England at 17 and added "Maclaren" as a middle name, playing up his Scottish heritage, so that he could get work in the West where there was a prejudice against privileged English boys. He too had followed relatives to Canada after considering moving to New Zealand. We considered the coincidences of people meeting and marrying, adopting because of care for another portion of the family, or adopting from outside of the family for medical reasons. We realized how fortunate or blessed we were to know this diverse crowd of people and call them family.
Then, as will happen with the seeming randomness of weather, a heavy rainstorm broke over the party and threw us all into close quarters in a building called the "Feasting Hall." We shared a potluck meal together and then one of my cousins pulled out his guitar, another his mandolin and drums, and we all tuned our voices. My cousins and I sang some songs as we invited others to join us. Several sang solos or joined with the crowd. I taught the group a children's song I had written with a friend, and people graciously sang along. Then, little miracles began to occur: a young boy who wanted to sing, but could barely find the courage to do so, sang "Take Me Out to The Ball Game;" self-conscious young adults sang songs of faith that they knew from their childhood; and three seniors (brothers and cousins) got up on the stage and struggled their way through "Ghost Riders in the Sky" - to the delight of everyone! My mother's brother who is in stage four (of five) of dementia, sang and valiantly tried to read lyrics, though he had not done so for several months. His face beamed as people applauded his voice. His sister and daughter sat with goose-bumps on their arms and tears in their eyes and he sang with all his might.
Coaxed by his aunt and his distant cousin, young Liam, lived up to his Celtic name, and quieted the crowd as he sang Gordon Lightfoot's "The Wreck of the Edmund Fitzgerald." He sang a capella as he read the lyrics from another distant cousin's smart-phone and brought down the house. Liam was later seen playing along on the
cajón,
keeping rhythm while others sang.
I thought about the generosity of several of those moments. Everyone in the room wanted others to succeed and many made space for the gifts of others to be expressed. Liam's moment to shine came from a variety of sources: Ukrainian dance instructors who gave him rhythm, musical theatre that taught him to sing, a loving family that supported his abilities, ancestors who shared their genes, close family that spurred him on, and distant relatives that coaxed him to remain calm and do what his voice and musical ear was so readily able to do.

For those with eyes to see and ears to hear, it was a spiritual moment in the development of one unique family.