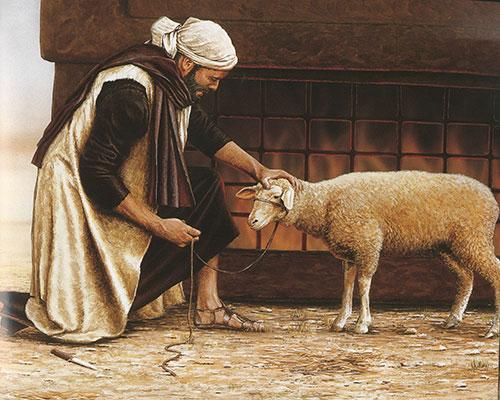 I had lunch with a friend recently and he
was wrestling with some difficult things in his life. (I will change some of
the details so that you will not know who he is.) His wife had recently been
diagnosed with cancer and they were in the midst of a significant
transformation in their knowledge of all things "chemo," "prognosis," and
"statistics." To say the least, it was very disorienting. This led my friend to
ask questions about his faith and what we might be able to expect from God.
When God's people pray, what happens? Does heaven move for us? Do we pull
ourselves closer to heaven? What is the appropriate response when experiencing
such things? My friend asked the question, "Should I go to church more often?"
(This from a guy who, as best he can, makes it to a church service one to three
times per month.)
It occurred to me that something like that
was my usual response and the usual response of God's people from time
immemorial. The logic goes something like this, "God seems to be angry with us.
He has a right to be angry at us; after all, we are sinners saved only by God's
goodness and grace. Maybe God wants more _________, insert the appropriate
words: animal sacrifices, words of praise, acts of obedience, attendance at
church, prayers, Bible verses read, …." You see, I have a tendency toward
legalism. I daresay, you have a tendency toward legalism. We think we can purchase
God's favour with a higher level of asceticism or praise.
It may surprise us to know that Hosea,
from his ancient, Jewish, perspective saw through such ideas. He tells us in
Hosea 6:6 that God does not want greater legalism:
I want you to show love,
not offer sacrifices.
I want you to know me
more than I want burnt offerings.
Hosea 6:6 New Living Translation (NLT)
At a later time in the history of God's
people, Paul, the great defender of the Law of God, a man who should have been
more prone to legalism than any of us, had this to say to the church in Rome.
But the people of Israel, who tried so hard to get right with God
by keeping the law, never succeeded. Why not? Because they were trying to
get right with God by keeping the law instead of by trusting in him. They
stumbled over the great rock in their path. God warned them of this in the
Scriptures when he said,

"I am placing a stone in Jerusalem that makes people stumble,

a rock that makes them fall.

But anyone who trusts in him

will never be disgraced."
So, going back to my own propensity and
that of my friend, we can try to get right with God by "keeping the law," or by
reading our Bibles more, or by reading our Bibles with more thorough
understanding, or by listening to more sermons, or by being more diligent in
church attendance; and we will fail to draw any closer to God. What will draw
us into close relationship with God? Trusting in him. Trusting his plan;
trusting Jesus, the rock.
Trust in the Lord with all
your heart; do not depend on your own understanding. Seek his will in all you
do, and he will show you which path to take.
Proverbs 3:5-6 (NLT)
Can we say with Paul, "I will trust you,
oh Lord."? Can we say this when our lives are going well? Can we say this when
cancer is present? Can we say this when we have enough to eat? Can we say this
when we are in need?
With every bone in my body I will praise
him:
"Lord, who can compare with you?
Who else rescues the helpless from the strong?
Who else protects the helpless and poor from those who
rob them?"
Psalm 35:10 (NLT)