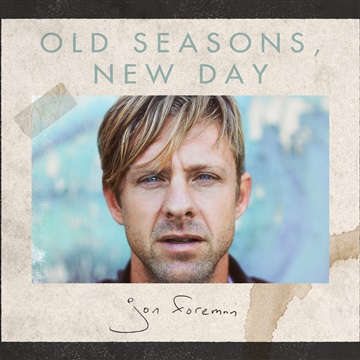 Jon Foreman (lead singer, guitarist, main songwriter for Switchfoot) has new solo music out. He released an EP to NoiseTrade called Old Seasons, New Day and one of the songs on that EP is called "Broken From the Start."
In this song he is wrestling with his mortality with words like, "When our cords are cut that's when we start to die" and "Lately every breath feels like I'm kissing death." In the last verse he recognizes that as an artist he may never be truly respected until he is dead: "they still won't pay respect until you die."
Why all of this pointing to death? The chorus gives us some insight.
If you hide yourself deep inside
Deep inside
In time you've got nothing left to hide
There's nothing left inside
Tonight, honey
I'm gonna break your heart
Mine was broken from the start
Broken from the start
Despite the fact that we are "born to die," we cannot lock ourselves up deep inside. Our hearts need to be broken. We need to open ourselves to others and to someone greater than ourselves. There must be hope beyond the mortality of this life.
Broken From the Start
(words and music by Jon Foreman)
(Listen while you read the lyrics)

(Oh, oh, oh, oh, oh)
Life is a gift like fresh cut roses
Cut from the branch and brought inside
It's a slow contradiction, it's beauty in a vase
When our cords are cut that's when we start to die

(Oh)
Lately death and life get so confusing
I can't tell the difference here tonight
Lately every breath feels like I'm kissing death
And when time is dead I cease to be alive

If you hide yourself deep inside
Deep inside
In time you've got nothing left to hide
There's nothing left inside
Tonight, honey
I'm gonna break your heart
Mine was broken from the start
Broken from the start

(Oh)
Choice is the only thing we're given
For one to live another dies
One road says, "Hello"
The other says, "Goodbye"
And the rose that you don't choose begin to die
(Oh, oh)

If you hide yourself deep inside
Deep inside
In time you've got nothing left to hide
It dries up inside
Tonight, honey
I'm gonna break your heart
Mine was broken from the start
Broken from the start
Broken from the start
Broken from the start

They won't pay a cent to hear you laughing
They might pay a little to hear you cry
If you do it long enough
They might even pay attention
But they still won't pay respect until you die, die

If you hide yourself deep inside
Deep inside
In time you've got nothing left to hide
It's all dead inside
Tonight, honey
I'm gonna break your heart
Mine was broken from the start
Broken from the start