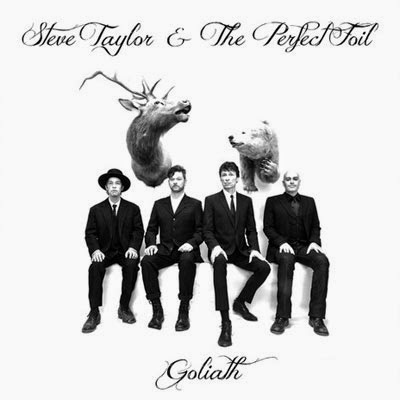 For those of you who loved Steve Taylor in the 80's, he's back; and back in style. The creator of such music as "Meltdown (At Madame Tussaud's)" (1984), "On The Fritz" (1985), "Lifeboat" (1985), and "This Disco (Used To Be A Cute Cathedral)" (1985) has released a new album. He used a Kickstarter campaign to raise the funds to record a studio album and plan a tour (the video for the Kickstarter is very funny). His new band, The Perfect Foil, includes Peter Furler, the former drummer and lead singer of Newsboys. Taylor and Furler have worked together for years and Taylor was behind many of the quirky lyrics of Newsboys songs. Remember these lyrics from the Newsboys song "Shine":
And try as you may, there isn't a way
To explain the kind of change
That would make an Eskimo renounce fur
That would make a vegetarian barbecue hamster
Pure Steve Taylor lyrics.
The new album is called "Goliath" and was released on November 18. Although Taylor is known for his satirical songs, he is equally adept at serious poetry. "A Life Preserved" is one example on the new album.
A Life Preserved
(Music and Lyrics by Steve Taylor on the album Goliath by Steve Taylor and the Perfect Foil)
(Listen while you read)
Bobbing for air, I'm back again
A perfect ten of a dive without a pool
A perfect fool too slow to know
His wind has been knocked out till I'm gasping
Bobbing for air, been up and down
The once renown, angling for another act
Another tactical advance to who knows where
You found me there, I heard you there
Calling me out of the shallows of my world
Called to something graceful, something true
Gratitude's too cheap a word for all you've reassembled
From a spirit broken and unnerved
A life preserved
A life preserved
Bobbing for air, I've been atoned
Creation groaned to lift me as I drowned
And set my feet up on the mound of rock you crushed for me
A place to stand, whisper a command
Calling me out of the shallows of my world
Called to something graceful, something true
Gratitude's too cheap a word for all you've reassembled
From a spirit broken and unnerved
A life preserved
Bobbing for air, I have been served
A life preserved after all I'd cast away
You tipped the grayscale till the scales fell back to earth
And I saw colors, I heard a shout
Bobbing for air
Calling me out of the shallows of my world
Called to something graceful, something true
Gratitude's too cheap a word for all you've reassembled
From a spirit broken and unnerved
A life preserved
Calling me out of the shallows of my world
Called to something graceful, something true
Gratitude's too cheap a word for all you've reassembled
From a spirit broken and unnerved
A life preserved
I am very glad Steve Taylor is producing new music and getting out on the road to do some touring. The need is so great that I was about to start my own Steve Taylor Tribute Band. "Hey . . . I can do tall skinny white guy pogo-ing on the stage. Get me an "On The Fritz" suit and I am ready to go!"